Sapphire & Diamond Sailor's Valentine Necklace
Regular price

Sale price

$1,030.00
Beautifully crafted 14k sailor's valentine pendant, set with sparkling blue sapphires and diamonds. The octagonal design features shells and a heavy bail. Measures approximately 5/8" inch across. Solid 14k gold.
Available as the pendant alone or with a solid gold cable chain available in adjustable 16-18" or 20" lengths.
In the 18th and 19th centuries, sailors would bring home treasured gifts for their loved ones, called Sailor's Valentines. These pieces of art were handcrafted, intricate designs of small sea shells, set in an octagonal box.
Our Sailor's Valentine jewelry is designed to resemble these beautiful seashell collages of the past. They are worn as a symbol of love, devotion, and being apart - yet always together in heart.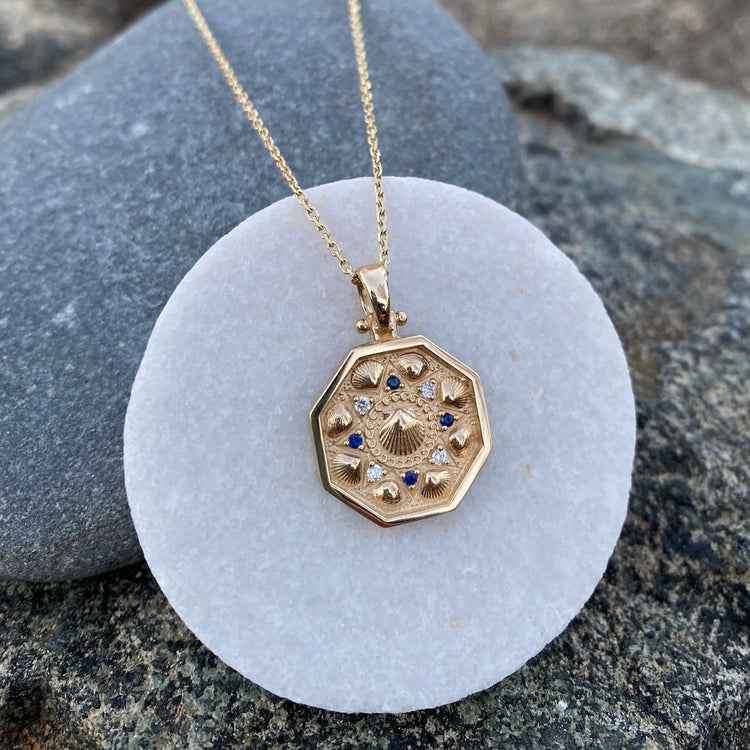 Sizes + Measurements
SIZING FOR BRACELETS: 
Cape Cod bracelets and nautical hook bracelets are designed to be worn like a close-fitting bangle. Either the ball unscrews or the hook comes undone so that you may open up the bracelet to slip over your wrist. It is not meant to be slipped over the hand (your correct size will most likely be too small to fit over your hand.)
To ensure the recommended fit, please measure the circumference of your wrist with a soft tape measure wrapped snugly around the wrist bone. As a general guideline, we recommend adding half an inch to that measurement to find your proper size bracelet. 
For example, a wrist measuring 6.5" would need to order at least a 7" Cape Cod bracelet. It is safer to round up when falling between sizes. This is a general guideline, as some people may prefer a looser fit or a more snug fit. 
(As a side note, most adults are larger than a size 6". This is the most common exchange we see (with people needing a larger size). When ordering a 6", please note this is a very small size for an adult.)